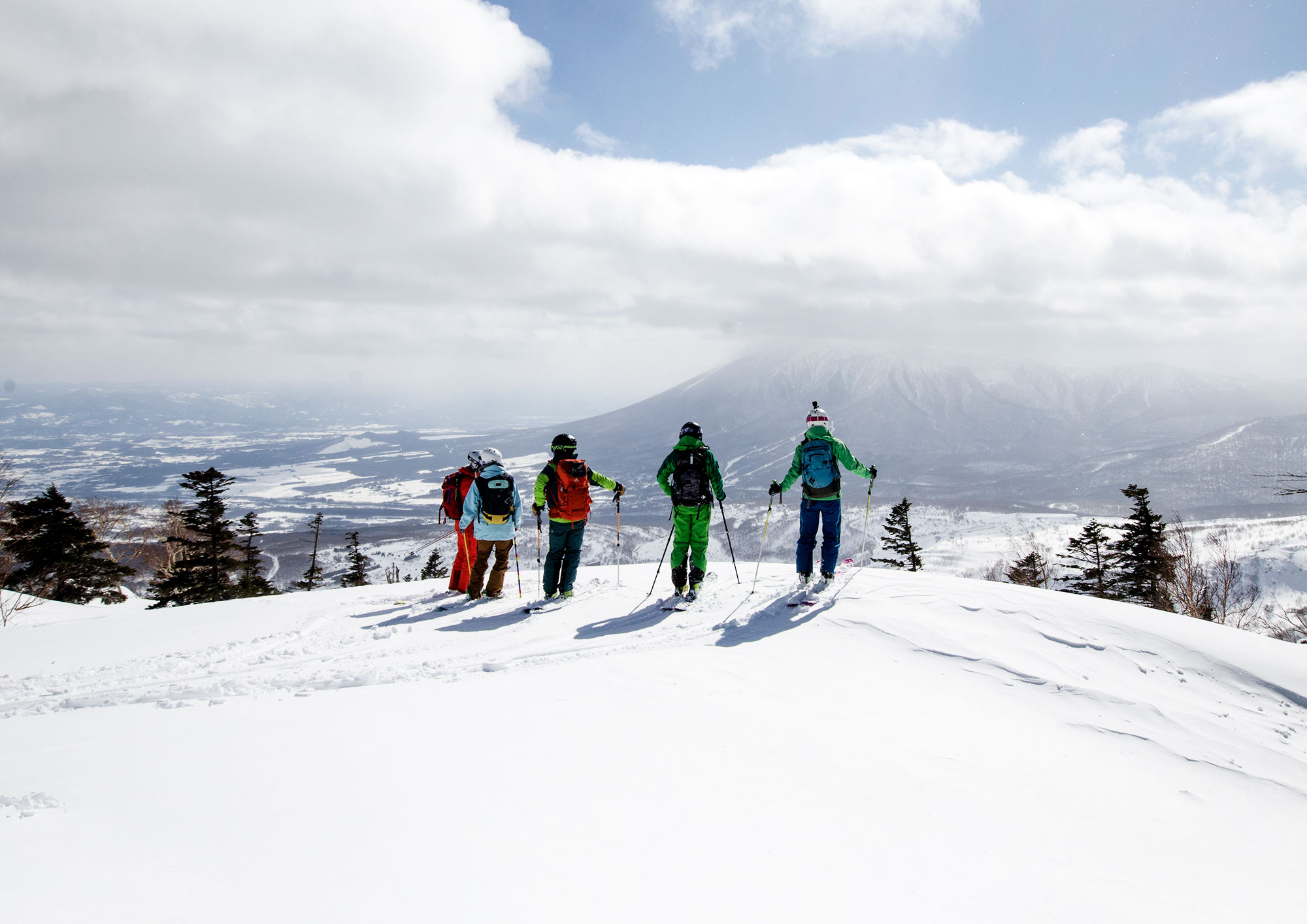 Spring mini backcountry tour
Experience the original attraction that you can't feel on the slopes.
A short backcountry tour where you can experience the nature of Appi as spring approaches. Enjoy skiing and snowboarding while feeling the healing of the forest in this time of the year, such as the smell of trees and the chirping of wild birds.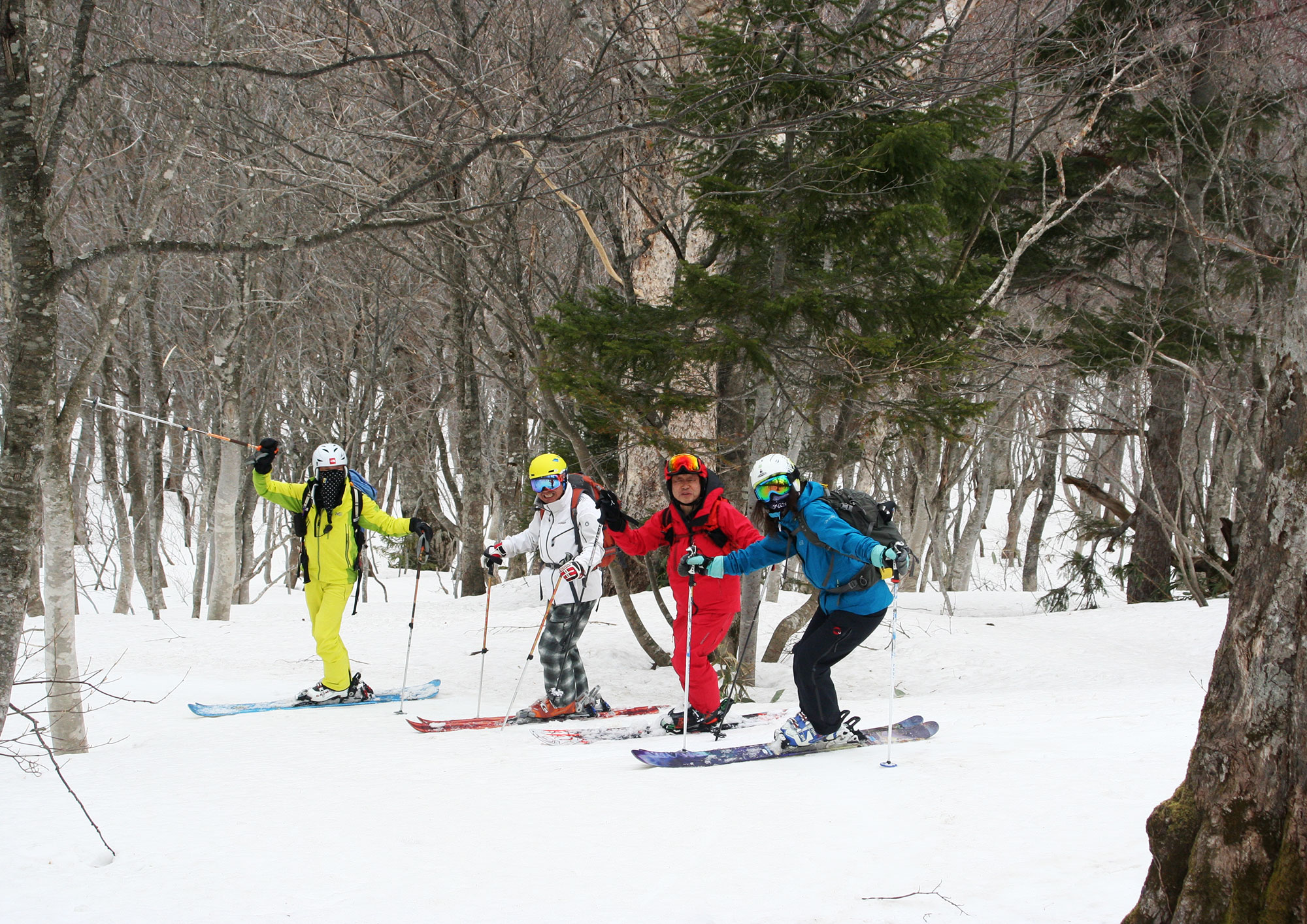 Participant conditions
Skiers and snowboarders capable of skiing on non-compacted snow slopes.
Those who have the physical strength to climb the snowy mountains.
Those who fully understand the difference of risks between on the ski slopes and outside the controlled area.
Open period
2022.3.1 – the end of the ski resort
Open hours
[AM]9:00〜11:30
[PM]13:00~15:30
Price (tax included)
Half day … 8,000 JPY (12,000 JPY if only one participant)
1 day … 12,200 JPY (16,000 JPY if only one participant)
* Lift ticket fee is required seperately.
Capacity
2-4 people
Application deadline
Until 17:00 the day before
* It may be possible to accept even on the day depending on availability.
Equipment

Mountain skiing, telemark, snowboarding, helmet, beacon, tour pole, backpack required (rental available)
Drinks, high-energy food *Skiing will hike up with seal attached, snowboarding requires snowshoes.
Reservation / Inquiry
IHATOV Appi Kogen Nature Tours (in Appi Kogen Resort Center)
TEL:0195-73-6228 FAX:0195-73-5681
taiken@ihr.co.jp
---
Precautions for participating in backcountry tours
Participation is conditional on those who agreed with all of the following contents.
Advanced skiers and snowboarders who can ski on non-compacted snow slopes.
Experienced people with backcountry. * Inexperienced people will be asked to take a lesson for BC beginners in advance and will be judged to participate in the CAT tour.
Those who fully understand the risks of behaviour outside the controlled area of snowy mountains.
There are Japanese and English speaking member in the group.
It is possible to control speed, slide and stop safely on any non-compacted snow slopes or snow condition.
You can stand up by yourself even if you fall down to deep snow.
Please follow the guide's instructions during the tour as it is a group activity.
If you have been injured or ill in the past, please let us know in advance.
Please note that if there is a difference in skill or physical strength in the party, we will adjust the level.
If the guide determines that the level is insufficient, the person will be asked to leave the tour. (No refund)
Appi Backcountry Tours will not be responsible for the accidents caused by carelessness during the program. (No refund)
Those who have no problem with their health. If you suspect you have a cold or illness on the day, please decline to participate.
If you damaged or lost the rental items, you will be asked to compensate for them.
Please strictly adhere to the meeting time.
This program is held outside the controlled area. Please understand that there are various dangers are involved unlike the maintained areas.
Participants are requested to enroll insurance in advance such as mountain insurance, which covers mountain climbing activities.
Minors must be accompanied by a guardian.
Rental items
①Alpine tour ski full-set
3 hours 7,000 yen
5 hours 8,500 yen
1 day 9,500 yen
②Alpine tour ski set (ski, seal, pole 3-piece set)
3 hours 6,300 yen
1 day 7,650 yen
③Alpine tour ski
3 hours 3,600 yen
5 hours 5,500 yen
1 day 6,000 yen
④Alpine tour boots
3 hours 3,000 yen
5 hours 4,500 yen
1 day 5,000 yen
⑤Backcountry tour pole
1,550 yen
⑥Climbing skin (seal)
1,250 yen
⑦Telemark set (ski, boots, stock, seal)
4,600 yen
⑧Soft telemark set (ski, boots, stock)
3,550 yen
⑨Telemark ski (seal)
3,050 yen
⑩Telemark ski (step cut)
2,550 yen
⑪Telemark hard boots
2,050 yen
⑫Telemark soft boots
1,550 yen
⑬BC snowshoes
3,300 yen
⑭Cross country ski set (13 yrs and above)
3,300 yen
⑮Cross country ski set (7-12 yrs)
2,200 yen
⑯Helmet rental
1,100 yen
Tour participants only
⑰Beacon (tracker)
2,550 yen
Tour participants 1,100 yen
⑱Shovel
1,550 yen
Tour participants 1,100 yen
⑲Probe
1,550 yen
Tour participants 1,100 yen
⑳Rucksack (single item)
1,550 yen
㉑Snowboard 3-piece set (BC snowshoes, poles, backpack)
3 hours 4,500 yen
1 day 5,500 yen
* The price is for one day (1 tour or 8 hours).
Rental items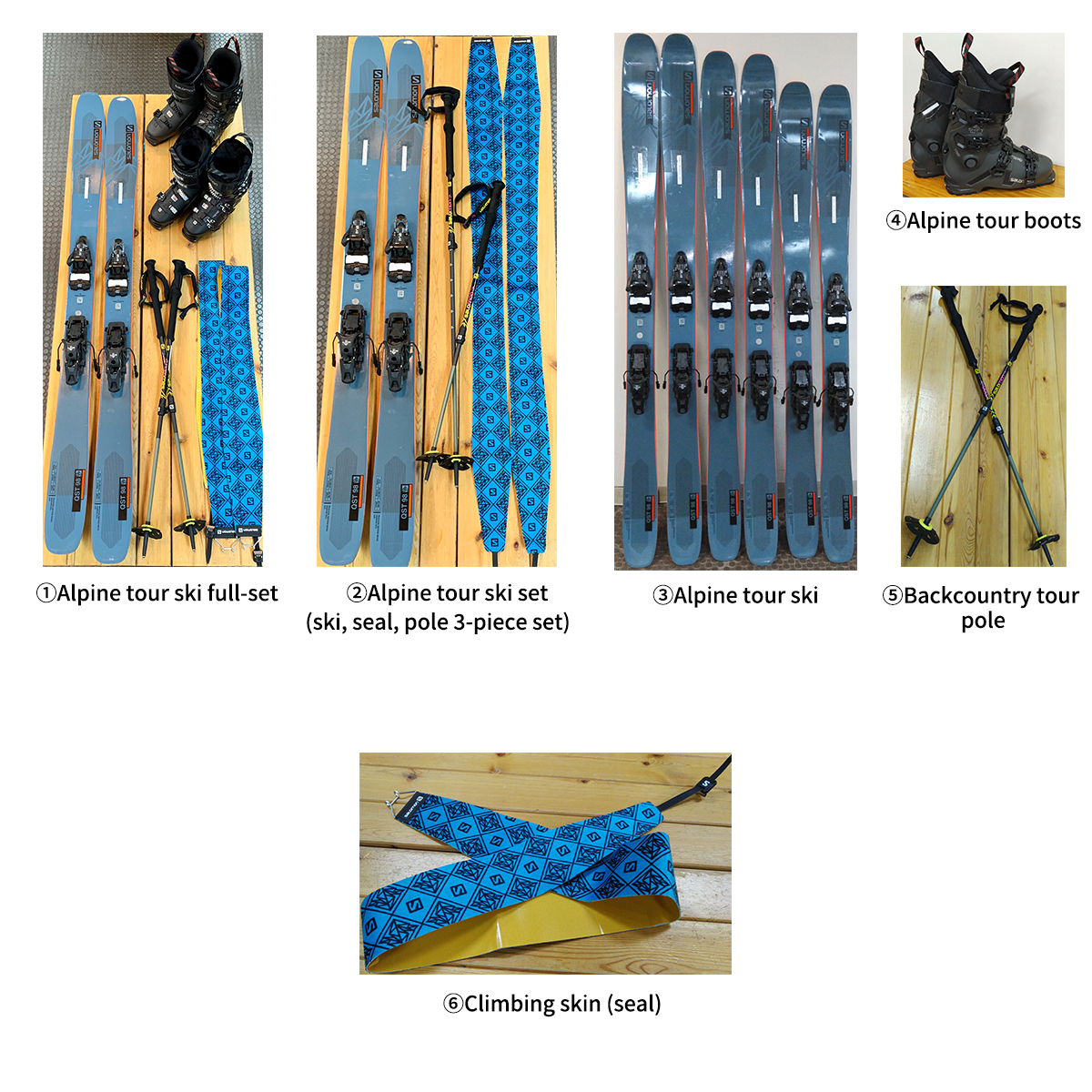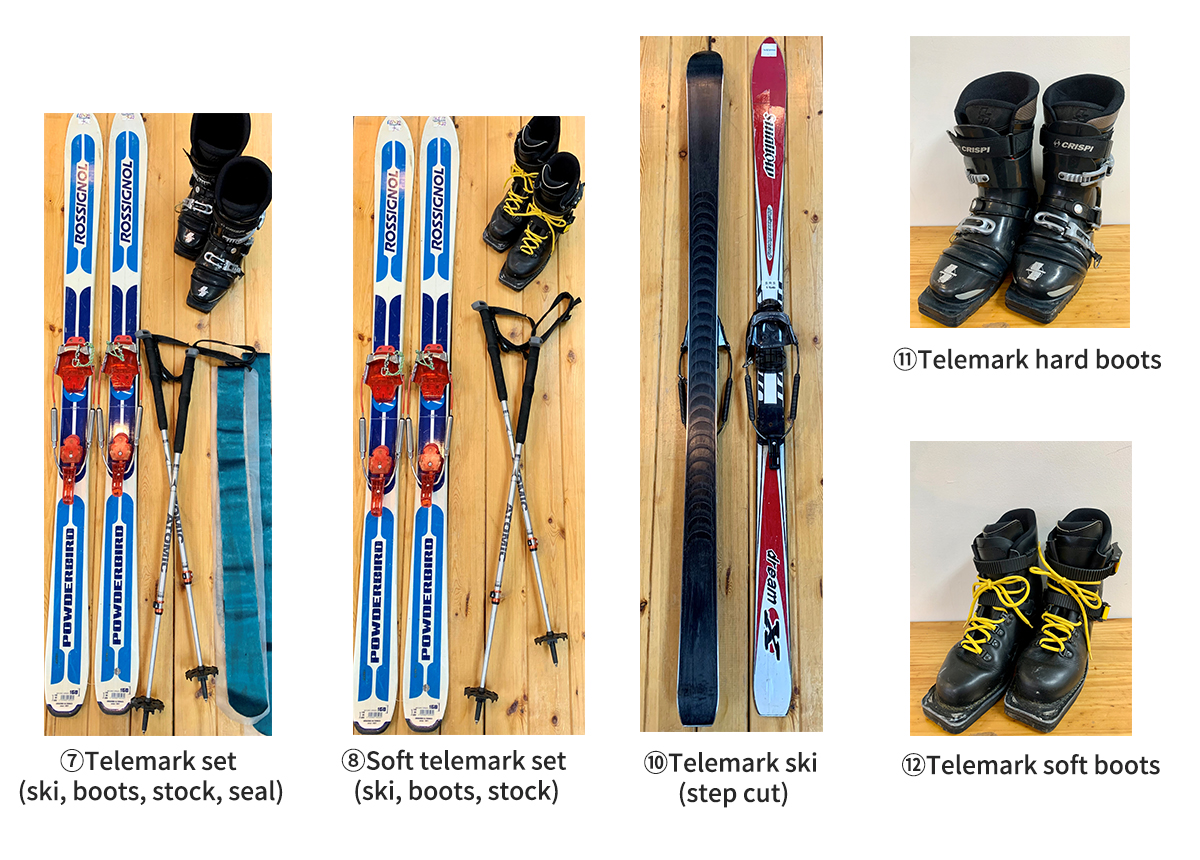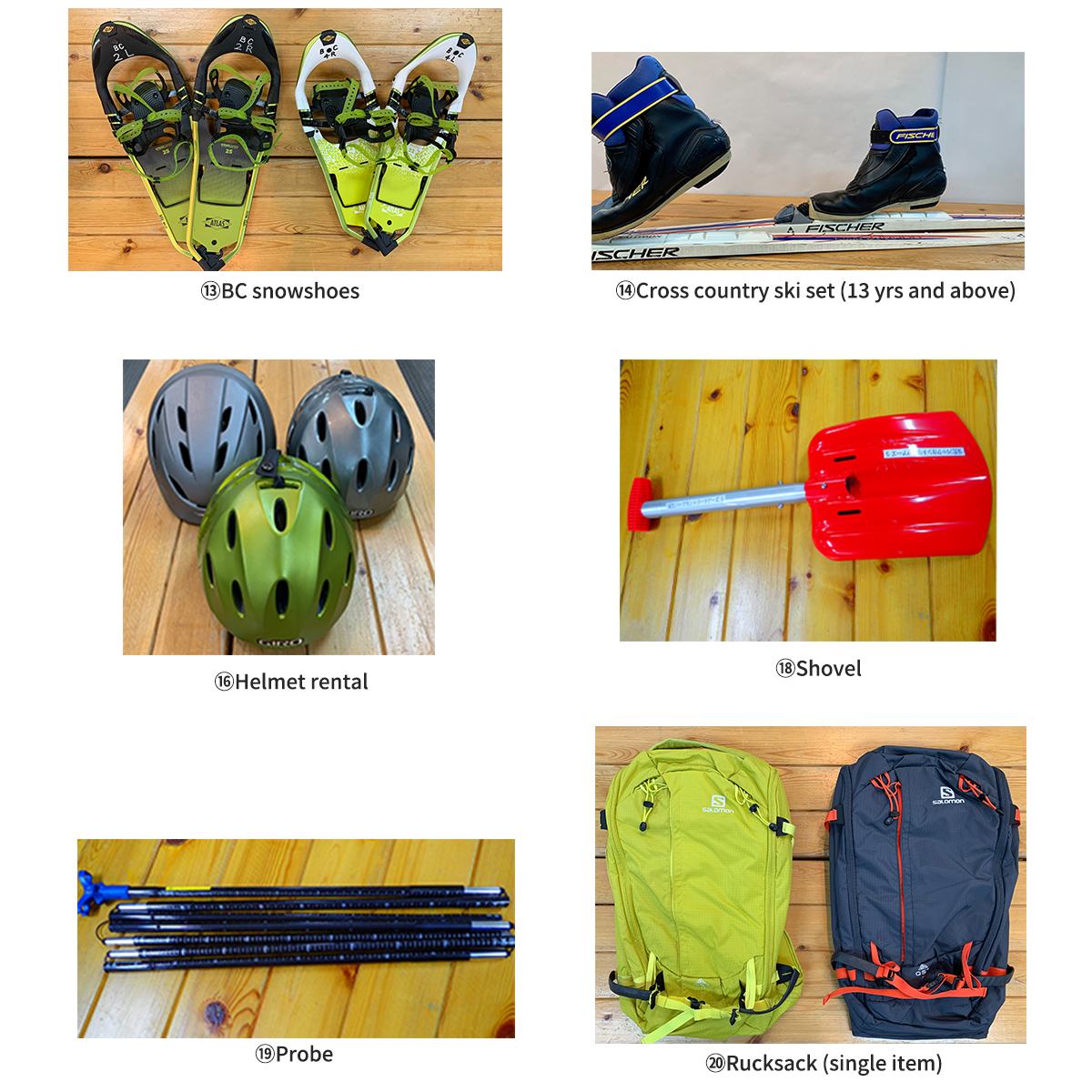 Salomon rental gears started from this season.