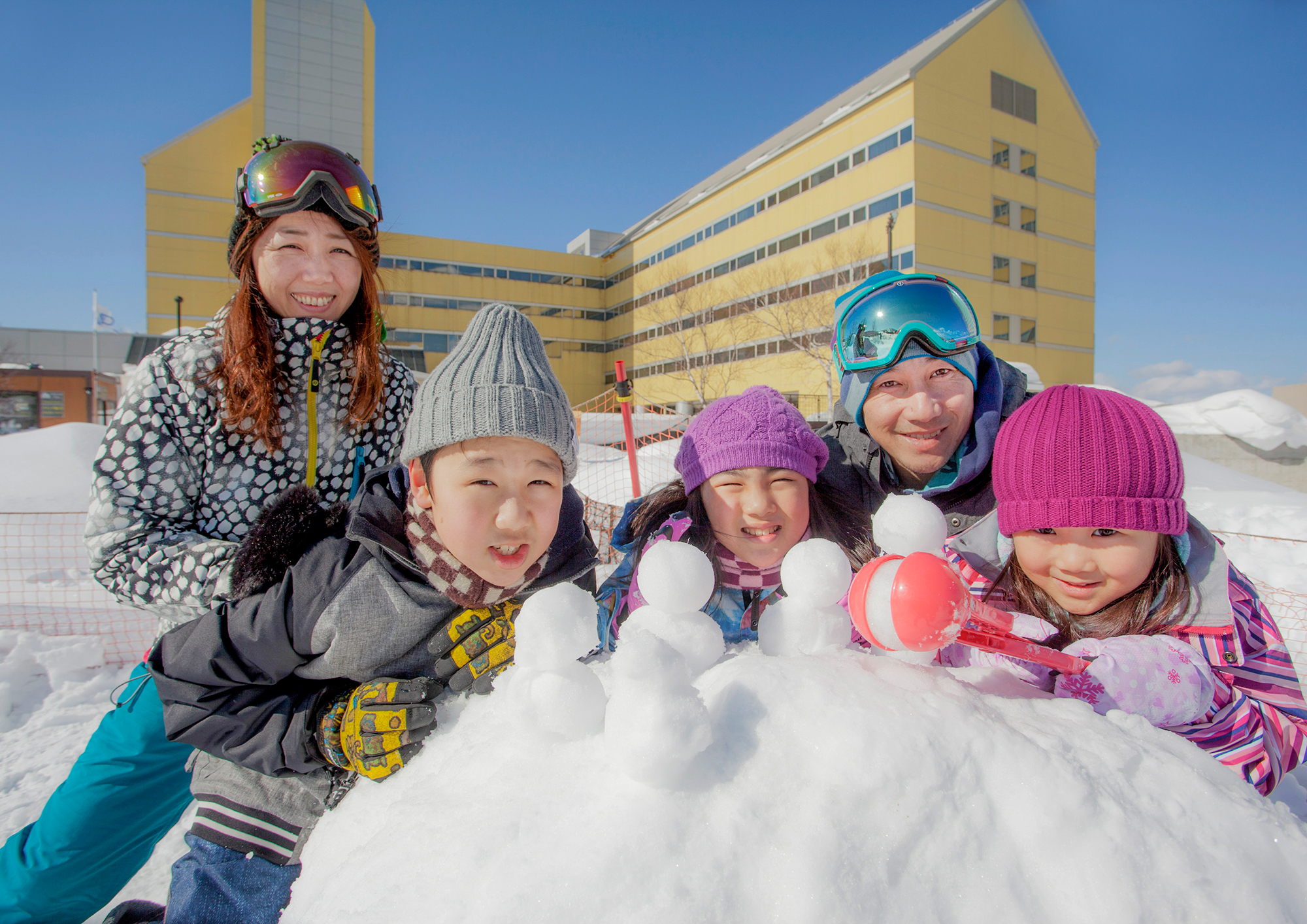 Kids Land
Time to snow adventure.
Play the snow activities and meet the dinosaurs. KIDS LAND contains tubing, sled, beginner slope、 magic carpet and Dinosaur zone . This area opens not only for kids but also for adults. Touch the snow, feel the earth.
More enjoy, more exciting in APPI Snow Play Land. It is also recommended for the first time ski and snowboard challenges. There are various activities such as tubing, sled and snow rafting, both children and adults can enjoy here!
---

Magic Carpet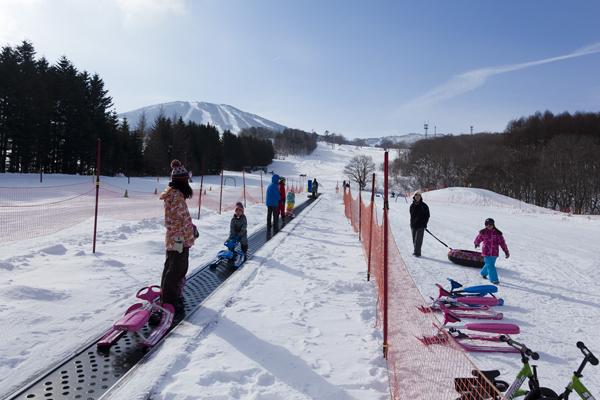 A 60m Magic Carpet is installed, which is much longer than ever. You can easily move from bottom to top in a large park. It is convenient for both skiing and snowboarding for the first time and playing in the snow.
Ski and snowboard area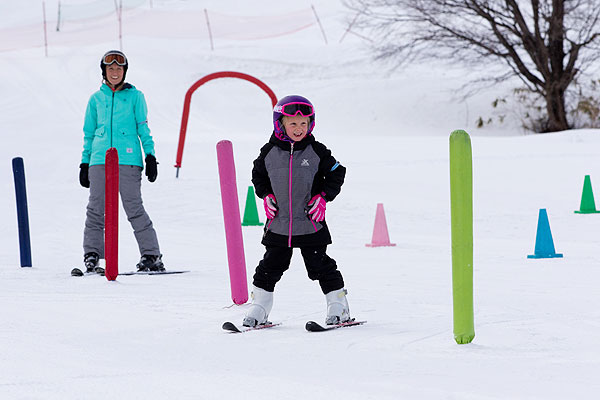 You can enjoy skiing and snowboarding safely. The area has been expanded, not only children but also adults can enjoy. If it is your first challenge for skiing or snowboarding, let's try on a gentle slope first. The slope is easy to climb with a Magic Carpet, and the slope is gentle. Since it is completely separated from the general slopes by the net, you can practice safely and enjoyably.
Sled area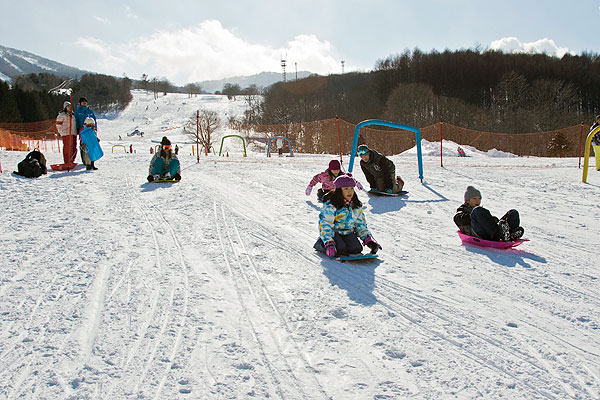 You can enjoy sledding in this area. There are free items such as plastic sleds and the new snow item "ZIPFY".
Tubing area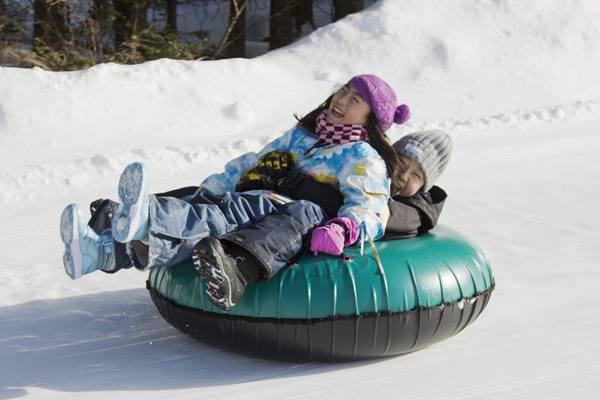 Tubing is very popular not only with children but also with adults. The course has been expanded, and it is a thrilling experience (the course might be changed depending on the snow conditions).
Snow play area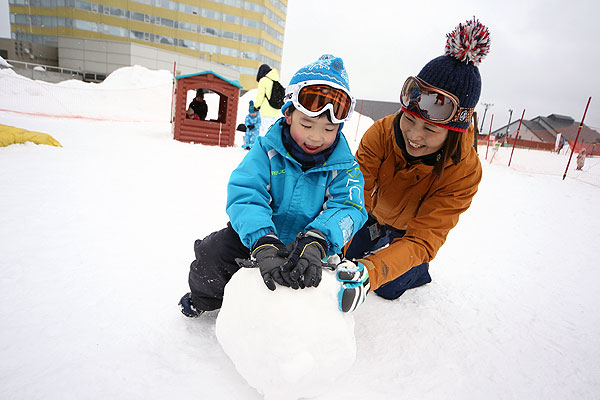 A snow play area for small children and their families. You can use some snow play items and plastic play equipment freely. You can enjoy playing in the snow with your family safely and enjoyably.
*Other activities are coming soon.
Open period
17th December 2022 – 2nd April 2022
Open hours
9:30 am – 4:00 pm
Fee
Green Pass (3,500 JPY) is required.
Anyone from children to adults can enter (Adult only is also possible).
Preschoolers must be accompanied by an adult (13 years old and above).
What is APPI Snow Play Land ?
It is safe and secure because it is completely separated from the general slopes on the net. The gentle slope is good for skiing and snowboarding for the first time. The 60m long Magic Carpet makes climbing easy. From children to adults, let's make your ski and snowboard debut fun and safely in APPI Snow Play Land!
In addition, there are sled area, tubing area, large and small sleds and tubing, and many new snow items. Not only children but also adults who do not ski or snowboard can play with tubing and new snow items a lot.
There is also a snow play area where small children and their families can play in the snow, and there are plenty of play equipment such as plastic shovels, buckets, snow ball making items, and plastic mini skis and slide.
About countermeasures against COVID-19 at Appi Kogen Ski Resort
Skiing and snowboarding that you can enjoy in nature are considered to be safe to enjoy as outdoor sports because of their good ventilation.
However, we will implement infection control measures based on the guidelines set by the government and related organizations for places where there is a possibility of becoming three Cs.
We kindly ask for your understanding and cooperation in our efforts so that you can have a safe and enjoyable time.